Welcome!
Thank you for visiting!  The Port of Shelton office is located at Sanderson Field Airport, just north of Shelton on US101, in unincorporated Mason County, Washington.  Sanderson Field is in a beautiful setting at the gateway to the Olympic Mountains along the Hood Canal and South Puget Sound!
Established in 1948, the Port of Shelton municipal port district of the State of Washington that is chartered for economic development. The Port has 9600 registered voters and almost 15,000 people living and working in the Port district, three of which are elected as commissioners to guide the Port in its mission and goals.
Port districts are authorized by Washington State law to be established in the various counties of the state for the purposes of acquiring, constructing and operating marine harbor improvements, rail or motor vehicle transfer and terminal facilities, water transfer and terminal facilities, air transfer and terminal facilities, and other commercial transportation, transfer, handling, storage and terminal facilities, and industrial improvements.
The Port of Shelton, like the many other ports throughout the state, is authorized under Title 53, Chapter 53.04.010, of the Revised Code of Washington.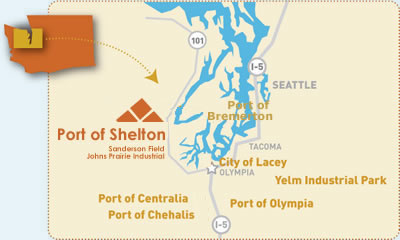 From Seattle/Tacoma
Take I-5 south to Olympia
Take Exit 104 to US 101 north
In approximately 6 miles take the exit – "Port Angeles-Shelton" for US 101 N
Follow US 101 north approximately 16 miles to Shelton
1/2 mile past mile marker 345, take a left on Sanderson Way just past Tractor Supply
Take the next left for 21 W Sanderson Way
From Bremerton/Gig Harbor
Take SR 3 south towards Shelton

Turn right onto Johns Prairie Rd

Continue ahead for Wallace-Kneeland Blvd
Turn right on US 101 North 
Turn left on Sanderson Way just past Tractor Supply
Take the next left to 21 W Sanderson Way
From Portland
I-5 North to Olympia
Take Exit 104 to US 101 North
In approximately 6 miles take the exit – "Port Angeles-Shelton" for US 101 N
Follow US 101 north approximately 16 miles to Shelton
1/2 miles past mile marker 345, take a left on Sanderson Way just past Tractor Supply
Take the next left for 21 W Sanderson Way